My Experience Is Here For You!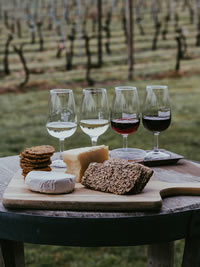 Service Options:
Please don't waste $20-$30 or more ending up with a disappointing wine by guessing a vintage, an unknown winery, or suffering sheer label frustration. Let me help you capture a special moment in time with a great wine! You can purchase where you wish with confidence! Do you have a sophisticated palate and hi-end wines are your joy, try me.
I will help YOU with specific choices from your taste profile for 3 brands and their best vintage dates! Try me, repeat business is important to me. I love hearing your wine pairing stories.
I will supply You with recommendations based upon Your Profile Form by E-Mail or Phone: Please contact me for details.
Our Payment Link:

Testimonials
"I cook with wine, sometimes I even add it to the food."

W.C. Fields, circa 1930's
"The discovery of a wine is of greater moment than the discovery of a constellation. The universe is too full of stars."

Benjamin Franklin, circa 1700s
"Wine is the most healthful and most hygienic of beverages."

Louis Pasteur

"Too much of anything is bad, but too much Champagne is just right."

F. Scott Fitgerald
About Our Services:
Maybe
you are

thinking:

I'm

a stranger to you.

Sure, that's

true right now. And, I

don't

know what your palate is or how to analyze a wine for you.

That is

also true but, we will change that!
Here is why I can save you time and money: I have been tasting wine for over 25 years, 1000's of wines for work analyses and pleasure. It takes a lifetime tasting wine from all over the world to develop and understand what a customer's wine palate is and how to satisfy it. This gets more complicated when it is friends and family.
Here is how I can save you time and money: Just try my recommendations, I'm not tied to any winery or trying to sell you a particular wine, buy it where is the cheapest! I am independent and simply offering you my experience and expertise. I do this every day for the largest wine retailer in the US and I'm sure you will be thrilled and come back to me time after time.
My Motto Is: Be Happy! Drink Great Wine! Cheers!

Notes:
Before I even think of making a recommendation, I ask several questions of my customers to find out what they enjoy when drinking wine. That is why I need to examine your tasting profile.
It is about listening to their story as they describe the enjoyment they experience when they're savoring that delicious glass of wine at the end of a hard day. It is about elevating their senses by recommending a perfect wine to pair with dinner that evening. In our wine store, I have noticed people taking a picture of a bottle to check the "rating" on their favorite App. Maybe you too have used this method when shopping for wine. It is amazing that people are trusting strangers to "recommend" a wine to buy. Do you know how qualified these people are to give these ratings? Have they tasted and analyzed enough wine to know how to rate a wine? How does their palate compare to yours? One hundred people can give a rating of 4.2 for a wine. But you (or the customer who is using this App.) might only give it a 3.5. Making a purchase based solely on this information is a bit risky, especially if the wine is expensive.
As the saying goes, "Time is Money". What I mean is how someone can spend hours and hours on the internet searching for answers to questions they have about wine. I can save you time by answering your questions directly. My ultimate goal is to help you spend your money on wines that you will be happy drinking.
---